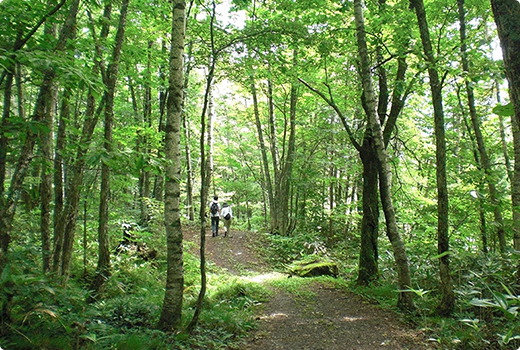 Nabedaira Kogen Heights (1,305m above sea level)
Including Shinhotaka visitor center "Sangakukan" (sangakukan),
Hot spring open-air bath flowing constantly from the source, nature trail to be able to enjoy nature, the fields and mountains grass garden
Space of healing and experience spreads out.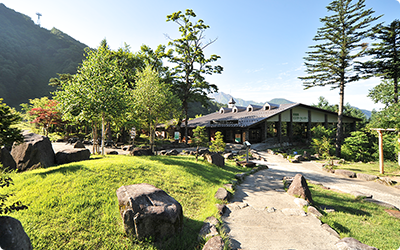 Shinhotaka visitor center

"Sangakukan" (sangakukan)
At museum conveying way of enjoying mountains of the Northern Alps,
We can learn about nature of Oku-hida.
In addition, we hold various events such as guide walk or snow shoes tour.
Nature promenade
We introduce tree and chicken, animal representing nature of Shin-Hotaka. In promenade which expressed the four seasons, you can see animals in more imminent glance.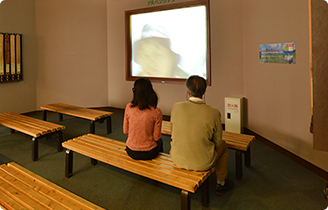 Alpen theater
We always show the Northern Alps by aerial photography and picture which caught seasonal nature by hi-vision from the midsummer to the cold winter period. Please enjoy picture of force by big screen of 100 inches.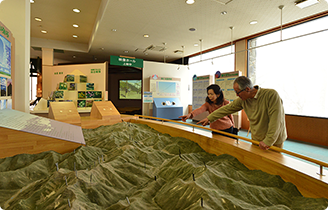 Alpen guide
We display three-dimensional model of 1/9000 reduced scale that the topography in southern Northern Alps understands at glance.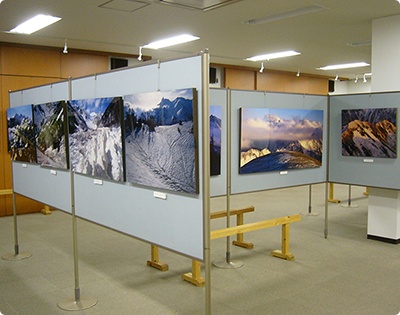 Ridge that is dear in the four seasons of the Northern Alps

Hisomu Koike photo exhibition In session! (no charge for admission)
We hold Hisomu Koike photo exhibition on visitor center the first floor of the basement.
As we display the seasonal mountains photograph of scenic beauty,
It is magnificent, and please see powerful Nature at this opportunity.
<Hisomu Koike profile>
In 1938, we are born in treasure village (in current Takayama-shi Takaramachi) in Yoshiki-gun, Gifu.
We inherit the back of father with Nihon University graduation and run sugoroku hut of the Northern Alps, mirror flat hut, wasabi flat hut.
We run Goro Kurobe hut including the mountains photograph in earnest from 1988 from around 1965.
On the other hand, we continue shooting around the Mt. sugoroku and announce work in magazine or publication.
Natural hot spring open-air bath of gravity-feed irrigation

"Kamitakara-no-yu(kamitakara no yu)"
It is Kamitakarano-yu Outdoor Baths established by Sangakukan.
In hot spring flowing constantly from the source, there are by for each two according to men and women.
As temperature of the source is considerably high, in drinking mountain stream of nature, we coordinate yuon.
※Our hot spring becomes only open-air bath and cannot use soap, shampoo. Thank you for your understanding beforehand.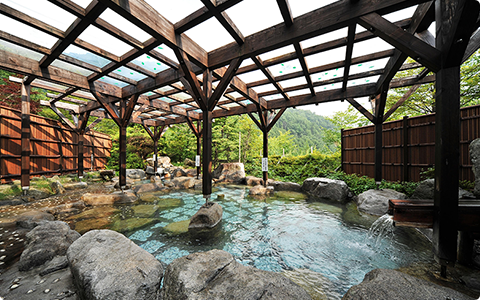 ■Service hours
9:30-15:30 (until Check in at 15:00)
※ There is change by season
■Charge
600 yen for adults 400 yen for children
※ It includes bath tax
■Towel sale
Face towel 200 yen
Bath towel 410 yen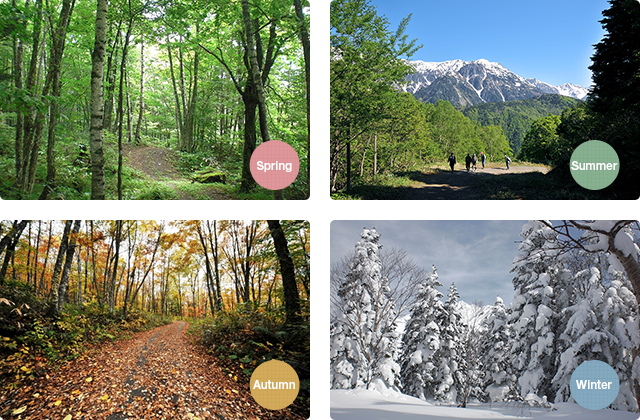 Nature trail

(nature trail)
Nature trail in Nabedaira Kogen Heights is 2.3km long.
In winter, it becomes hiking course using snow shoes.
While taking a walk leisurely in the forest
It is recommended to be refreshed.
We can learn in spite of being pleasure including various plants.
The fields and mountains grass garden
It is garden in Around Shirakabadaira station from Nabedairakogen Station. The colorful fields and mountains grass and alpine plant make bloom in green season.
As pass is used in garden, you can enjoy photography that it approaches to striking distance.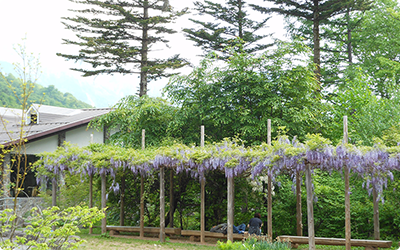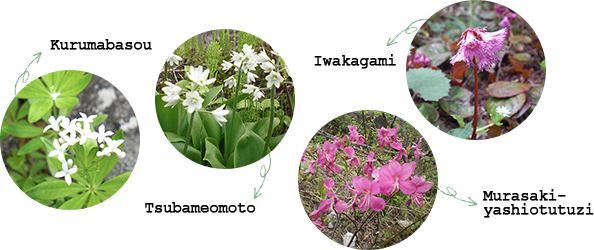 Nabedaira Kogen Heights parking lot
It is 0%-0% on foot to Shirakabadaira Station. 790 accommodation.
Car 600 yen, bus 2,300 yen (we do business for the snowfall period and cancel)
For information of access to the Nabedaira kogen hights parking lot, visitAccess route (PDF | 347kb).
It does not have restrooms. They are in ropeway stations.
You can use them only in ropeway survice hours.