August 19, 2018 07:30
Only No.2 ropeway operates earlier gondola on the following dates!
Take a ride to climb in early-morning refreshing air.
[Operating dates]
July: 28th Saturday, 29th Sunday
August: Sat 4th, Sun 5th, from Fri 10th (Holiday) to Tue 14th (Holiday), Sat 18th, Sun 19th, Sat 25th, Sun 26th
September: Sat 1st, Sun 2nd, Sat 8th, Sun 9th, from Sat 15th to Mon 17th (Holiday), from Sat 22nd to Mon 24th (Holiday), Sat 29th, Sun 30th
October: From Sat 6th to Mon 8th (Holiday), Sat 13th, Sun 14th
[Time of first gondola]
No.2 ropeway "Shirakabadaira Station" upbound : First gondola leaves at 7:00, afterwards 15 minutes and 45 minutes every hour.
※Upbound first gondola leaves Shirakabadaira Station at 6:00 only in August.
※No.1 ropeway begins opeartion at regular time.
[Suspension]
Operation may be suspended due to strong wind.
[Note]
・Only No.2 ropeway has earlier operation.
・Restaurant at "Nishihotakaguchi Station" opens at the arrival time of first gondola. (Only special menu is available)
We offer breakfast menu for mountaineers in "cafe light meal Cafe Mount View" from 7/28 (until early-morning convenience first train - 9:00 a.m.)
○Gakujin dynasty (sum set) 500 yen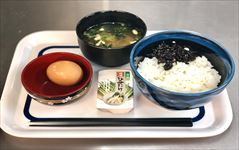 ・Park at the area exclusively for climbers in Nabedaira kougen parking lot (300 yen a day) or municipal Nabedaira parking lot for climbers (free) when you climb mountains.
・Enjoy your safe climb.